WHOS WORKED IN THIS ROOM: TAINY, KYGO, TYGA
the whisper

room
PRO-QUALITY, AFFORDABLE RATES IN A SERENE CREATIVE SPACE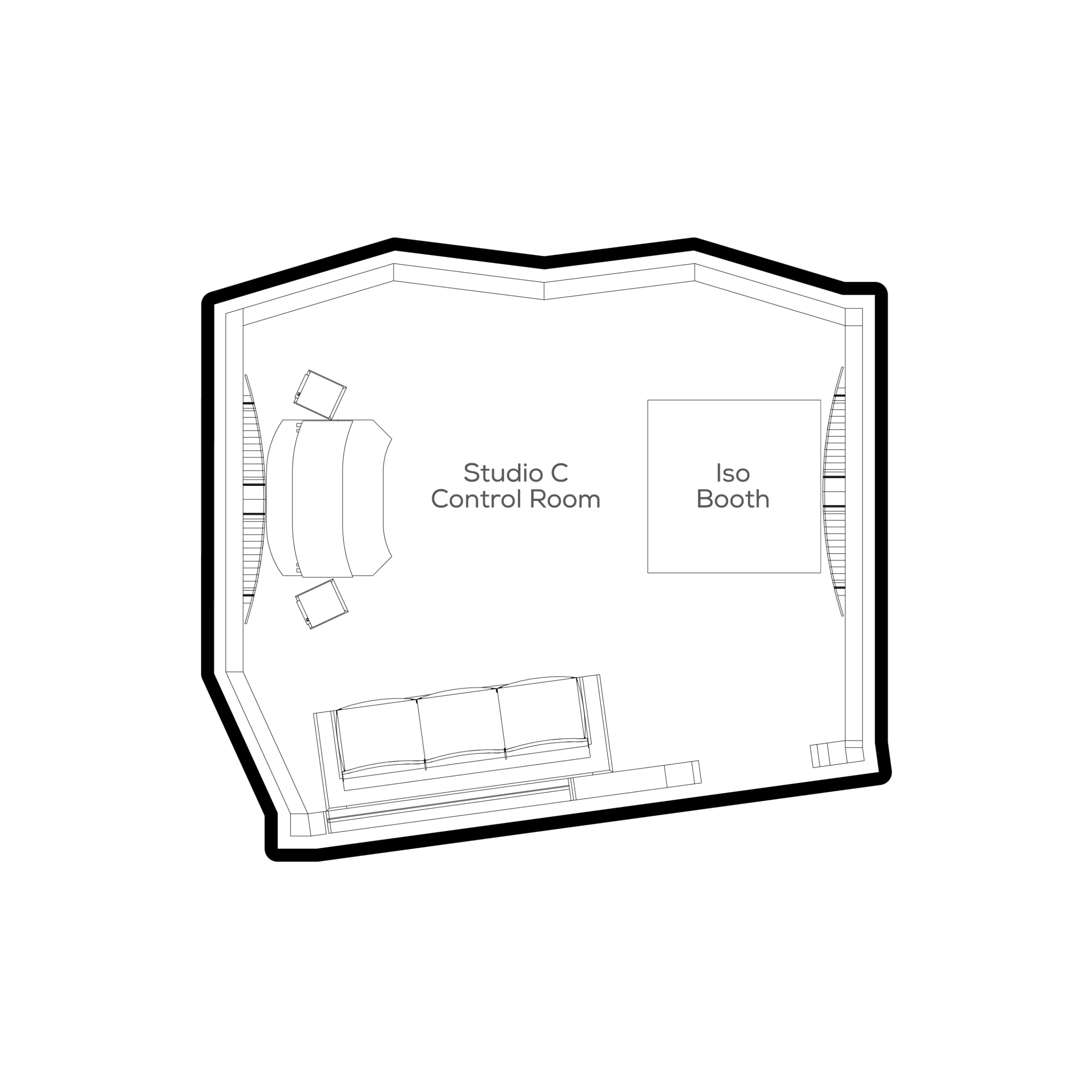 (The Whisper Room) was first created as a 16 channel stand-alone live room notoriously used by Estefano during his high-caliber tracking sessions. Now converted to an intimate recording space, The Whisper Room's original open layout provides complete transparency allowing artists to create and collaborate effectively. Unlike our other traditional recording spaces, The Whisper Room has 24ft ceilings and a recently updated Whisperroom iso booth.
Studio designers Arthur and Lambert managed to create a 21st Century recording space suitable for artists and songwriters that also produce. The Whisper Room room provides our clients with a one-of-a-kind sound and visual experience. As the larger recording spaces become more and more of an exquisite choice, this room is an excellent adaptation to the ever-changing demands of the music industry, making it one of the most unique recording studios in Miami.
ACOUSTICS
24ft ceilings that provide a natural and controlled reverb.
MODERN
Modern style workspace allowing artist and engineer to collaborate with ease.
EDITING
Perfect space for digital editing, and vocal tuning.
WRITING
A comfortable and creative environment for song writers.
PRODUCTION
An open layout makes this the perfect space for producers to create in.
THE VIBE
A clean and cozy space sure to inspire any artist.
SPEAKERS
1 Pair of Tannoy Reveal 802
1 Pair of KRK Rokit 5 G3
1 Pair of Yamaha HS7 (White)
OUTBOARD GEAR
Focusrite OctoPre Platinum 8 preamps
Avalon VT-737sp microphone tube preamp+compressor+EQ
2 John Hardy M1 microphone pre amps
EM-U Planet Phat
Aphex ID-4
Kosmos V2
Digitech Studio S100
PreSonus Central Station Plus
1 Universal Audio Satellite Firewire (fully loaded)
INTERFACES/
A-D CONVERTERS
Universal Audio Apollo 8 Quad (fully loaded)
HEADPHONE DISTRIBUTION
SYSTEM
Hear Technologies Hearback | Hub and
Remotes
CPU
2020 Mac Pro 3.2GHz 16‑core (64 GB Ram) Intel Xeon W processor, Turbo Boost up to 4.4GHz (10.14.6)
Mac Pro 3.46 GHz Intel 12 Core (32 GB Ram) OS X (10.8.5)
SOFTWARE
Protools Ultimate 2022 Protools 10 HD
PLUGINS
Waves Mercury Bundle SSL 4000 Collection UAD Ultimate 8 Autotune (EFX+, Access, Pro, Auto-Key) Soundtoys 5 Bundle Fab Filter FX Bundle Mixed In Key 8.5 Melodyne 5 Editor Vocal Align Pro Valhalla Vintage Verb Ozone Mix and Master Bundle Plus
MONITORS
LG29" UltraWide Samsung 32″ Curve Ultra Slim LED
EXTERNAL METERS
TC Clarity M Stereo Audio Meter
MICROPHONES
1 Sony C800G 3 Neumann U87-AI AKG c414 1 Blueberry Blue 1 Sennheiser MK4 2 Shure SM 57 1 Shure SM 7 1 Shure SM 58 1 Audix DP7 Plus Bundle, Drum Mic Kit
book a session or schedule a tour
READY TO WORK? CONTACT US TODAY!
Open 24 hours a day - weekdays, weekends, and holidays
Breathtaking power and ultimate clarity in an accurate listening environment. Equipped with the SSL AWS console, LED mood lighting, top-of-line acoustics, and a selection of high-performance speakers.
An impeccable vocal tracking experience in a cozy space. Pristine radio sound quality with fashionable modern vintage decor stocked with the latest plugins, preamps, and compressors.
A serene creative space with an open layout perfect for recording demos, singing, editing, and writing/production sessions, featuring 24ft ceilings and a recently updated iso booth.