Music Studio
rental
THREE WORLD CLASS RECORDING STUDIOS ONE AWARD WINNING FACILITY
Rent one of our three world class recording studios by the hour. Our most popular service by far offers the rental of one of our three world-class recording studios by the hour. In addition to your room rental, a highly experienced professional audio engineer or assistant engineer is included for the duration of your rental. Our engineers know these rooms like the back of their hands and can make workflow efficient allowing creatives to do what they do best, create.
The most unique recording studio experience in Miami. A safe and comfortable environment for all musicians to create 24 hours a day 7 days a week.
At Bay Eight, we can take your song through all the creative technical stages and turn it into a polished gem. From recording, editing, arranging, vocal tuning, producing, mixing, and mastering. Bay Eight is your one-stop-shop for radio quality music
All three of our rooms are fully loaded with the same plugins, standard industry preamps, and microphones allowing ease of use. This "Plug and Play" ecosystem is great for artists who want to work in different rooms but don't want to lose important data when swapping rooms. In short, you won't be subject to missing plugins, software glitches due to different versions of programs, or an overall loss of quality. Studio rentals can also include the use of rooms for mixing and mastering.
Contact us to rent one of our three world class recording studios.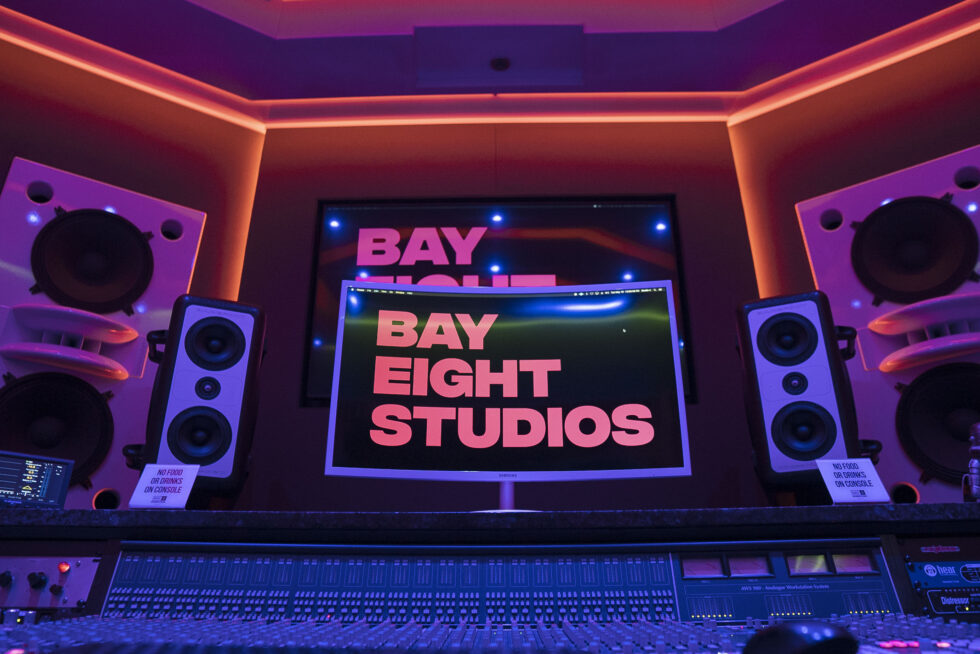 Sony c800g
(flat-rate)
The Sony C-800G is the most sought-after microphone in the industry. Used by artists like Kayne West, Travis Scott, Drake, Joss Stone Mariah Carey, Snoop Dogg, J Lo, Dr. Dre, and many more. This iconic microphone is known for its crisp, pristine impeccable sound quality. After being discontinued, gaining access to this incredible piece of recording equipment became next-to-impossible, until Bay Eight Recording Studios acquired one.
vocal tuning & editing
(BILLED PER HOUR)
Vocal Tuning is an art and requires a skilled experienced professional to craft a vocal performance to perfection. We use tools like Melodyne and autotune to ensure that vocals are in perfect harmony and rhythm with one another.
vocal arranging
(billed per hour)
A vocal arrangement can be described as the way you sing your song. Not necessarily the words that you sing but the way you sing them. A certain line may sound better when sung in your falsetto voice as opposed to your chest voice. We offer vocal arrangement services provided by our senior engineers at a premium hourly rate.
PRODUCER
(BILLeD PER HOUR)
We offer full music production services by cultivating or curating music from scratch. If you have a concept in your head we can make that concept a reality. Our producers specialize in producing and beat-making across all genres while providing professional guidance.
senior engineer
(billed per hour)
Senior Engineers are seasoned engineers with years of experience under their belt. Many have acquired a unique set of skills that are only earned by the countless hours they have put in behind the boards. Our senior engineers are mixed engineers, executive producers, vocal arrangers, and editors. These veteran engineers have worked alongside megastars, and independent musicians, and know exactly what is required from both.
session musician
(billed per hour)
Session musicians are expert studio players who are hired on a short-term basis to record backing tracks for recording artists. Session musicians write and perform music in your recording session as you desire.
our studio

rental policies
Our goal at Bay Eight is to provide you with a convenient, accessible, high-quality experience. In order for us to assure convenience and accessibility to all of the guests, it is important that guests arrive timely for all scheduled appointments or cancel the appointment 24 hours in advance. This policy allows us to make better use of our available appointments.
YOUR SESSION
Please arrive on time for your session, as we do not push sessions back for tardiness. If you show up to your session late, you will still be charged for the full-time schedule.
CANCELLATION POLICY
Cancellations made after the 24-hour deadline will result in a cancellation fee equal to the total amount of the scheduled studio time or a forfeit of deposit/prepayment. We do not offer refunds on cancellations made before the 24-hour deadline. Payment made at the time of booking will be held as a credit on file for one year.
RESCHEDULING POLICY
You are only allowed to reschedule your session one time. Rescheduled sessions after the initial change will result in the forfeit of the deposit/prepayment. We do not offer refunds on rescheduled sessions made before the 24-hour deadline. Payment made at the time of booking will be held as a credit on file for one year.
MISSED APPOINTMENT POLICY
A "missed appointment" is an occurrence where someone does not show up for an appointment and does not cancel the appointment in advance of the scheduled date and time. If you do not show up for your appointment and cancel the appointment 24 hours in advance, we will record this as a "missed appointment." We will result in a missed appointment fee equal to the total amount of the scheduled studio time or a forfeit of deposit/prepayment.
PAYMENTS AND FEES
We accept major label PO'S, cash, wire transfers, and credit card/debit cards. There is a 4% processing fee and a $15.00 wire transfer fee when accepting credit card payments.
DEPOSITS
A deposit of one-half 50% is required to reserve your scheduled session. The remaining balance is due upon arrival before the start of your session. Payees must provide a valid photo ID along with the credit card used for payment upon arrival. The ID must match the name on the card used for deposit/balance payments. If the person who made the payment is not in attendance or does not have an ID, your deposit will be forfeited unless an alternative payment method is provided.
YOUR GUESTS
A maximum of 5-7 guests are allowed per session in our Apollo and Whisper Room, and 7-10 guests are allowed in our SSL Room. There are no children or pets allowed in our facility. We will provide you with a guest list to fill out when you arrive. Any additional guests will be asked to leave the facility.
YOUR FILES
We are not responsible for your session files. Please request your engineer to make time for your files to be sent during your booked time or bring an external hard drive to the session. An $85 fee is required for future session/song transfers beyond booked time.
Contact us to rent one of our three world class recording studios.
book a session or schedule a tour
READY TO WORK? CONTACT US TODAY!
Open 24 hours a day - weekdays, weekends, and holidays
Breathtaking power and ultimate clarity in an accurate listening environment. Equipped with the SSL AWS console, LED mood lighting, top-of-line acoustics, and a selection of high-performance speakers.
An impeccable vocal tracking experience in a cozy space. Pristine radio sound quality with fashionable modern vintage decor stocked with the latest plugins, preamps, and compressors.
A serene creative space with an open layout perfect for recording demos, singing, editing, and writing/production sessions, featuring 24ft ceilings and a recently updated iso booth.